Houston is the perfect place to eat to your heart's content and experience all the vibrant city has to offer. With everything from mouth-watering hamburgers to Italian-themed pasta and delectable seafood, you are sure to find delightful cuisine to nourish your soul, inspire you and your loved ones to keep coming back for more! Read on to discover 10 of the best fine-dining restaurants in Houston.


The Capital Grille
With an amazing selection of steaks and fine wines, you are sure to be delighted by the exquisite cuisine at The Capital Grille. As you peruse the menu, you can discover everything from burgers and prime ribeye to coconut cream pie and cheesecake. If you're feeling a deluxe appetizer before the meal, spice things up with a shrimp cocktail. If that doesn't strike your fancy, how about sharing the decadent dish of lobster mac 'n' cheese as a family? Whoever you are and whatever you may be looking for, The Capital Grille prides itself on being the finest dining experience. All of the steaks are cut daily by the restaurant butcher and are prepared, cooked, and served at their freshest. If you want to enjoy this special experience at home, how about purchasing a Steak Grille box? Each box comes with the signature sauce and prepared meat to be cooked at home. With several different locations and the ability to order online, The Capital Grille provides both elegance and flexibility.


Masraff's
If you're looking for a Euro-American dining experience, there is no better place than Masraff's!

With a myriad of steaks, chops, soups, and desserts, you can discover just the dish you are dreaming of and eat to your heart's content. Perhaps one of the most notable and exciting aspects of this beautiful dining establishment is its wine and spirits. Whether you enjoy white or red wine to enjoy with that special someone, champagne to celebrate your newly earned success, or another drink entirely, there is an amazing and abundant selection to choose from. The bar at the Masraff's bar is open Monday - Friday 4 PM to 9 PM and on Saturday from 4 PM to 11 PM. You can make reservations online or by calling ahead.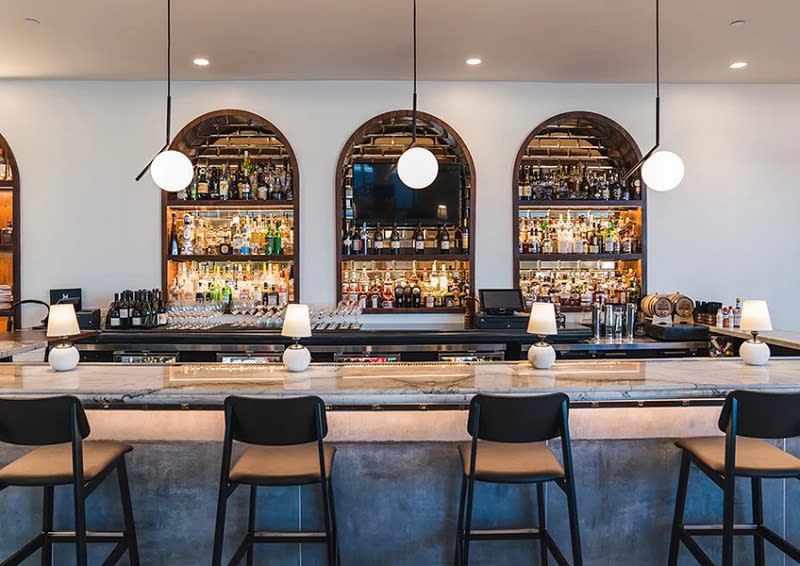 (Credit: Masraff's)


Brennan's of Houston
With the motto "Life is Short, Eat Well," Brennan's of Houston provides a fun and inviting atmosphere where you can make memories with the whole family or enjoy a night out with friends. Brennan's prides itself on using only the freshest and best ingredients so you can rest assured that your food will be of the highest quality. You can enjoy the tasty and mouth-watering Southern-Texas-themed dishes such as Jimmy's grilled oysters, pork belly BLT, and Texas shrimp and grits — to name just a few. Are you feeling dessert? How about satisfying your sweet tooth with the bread pudding or Mississippi Mud Pie? With a lot of heart, warmth, and charm, you are sure to feel right at home at Brennan's.


La Table
Calling all lovers of French food! La Table is the perfect place to create treasured memories with your loved ones over a glass of wine and a remarkable dinner. With its crisp, clean interior and gorgeous outdoor seating, you can experience classic beauty and a peaceful atmosphere over a meal of French-inspired cuisine. Wondering what the menu has to offer? Look no further! How about trying the French onion soup, Ravioli Monegasque, or the Flan Parisien, a delectable custard tart with caramel sauce? As you sip on a glass of wine, you can breathe in the fresh air outdoors on the patio seating and bask in the great outdoors. While you savor your fantastic meal, you are surrounded by the beautiful foliage and garden-like environment of La Table.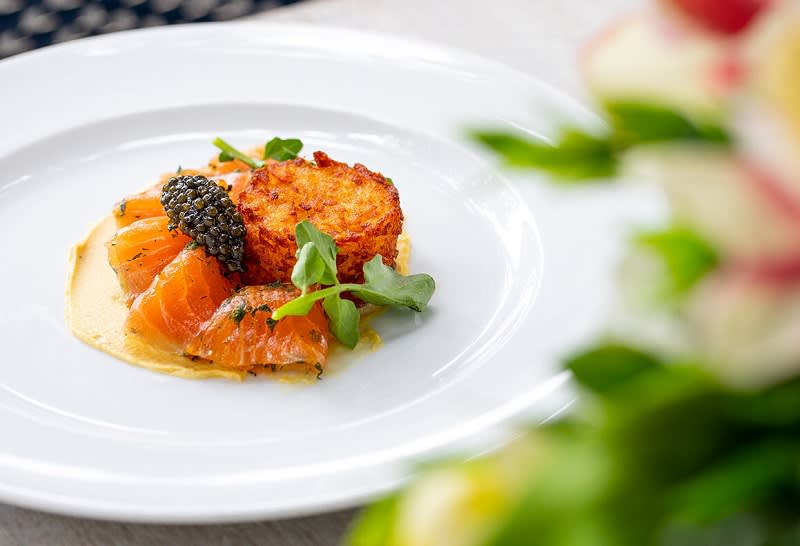 (Credit: La Table)


Steak 48
Do you like fantastic meat and supporting family-owned businesses? Then Steak 48 is the place for you! With its happy, friendly aesthetic and American-style food, you can enjoy a wide variety of hamburgers and steaks. When you walk through the doors, you can find a seat at one of the two bars, make yourself comfortable in a leather chair in the dining area, or venture outside on the patio for a sunlit or starry meal, depending on the time of day. Wherever you may be at Steak 48, you can try a cocktail, wine, or scotch and soak up the cheerful atmosphere. Here guests are welcomed wholeheartedly and can even watch the chefs making and cooking their food through the enclosed glass walls of the kitchen.


Potente
With their dining room newly opened, Potente offers a diverse array of Italian food and beverages. Whatever drink you wish for, you can find here: sparkling wine, cocktails, scotch, and much more. You are sure to be thrilled by the countless food options such as the prime beef fillet, duck breast, and truffle pasta. Located in Downtown Houston, this classic restaurant is ornately decorated like a gorgeous Italian villa and holds the hint of romance for you and your partner. Make sure you go to their website or call ahead to make a reservation for your evening of delectable pasta!


Kiran's
If you're craving Northern Indian food, then Kiran's is just the place for you! Chef Kiran and her crew prepare every dish beautifully with elegance, flavor, and a whole lot of love. Each dish is cooked over a slow, smoldering fire in a clay oven, and you will be able to taste the difference in each bite! With its sustainably sourced and antibiotic meat, you can rest confident that you are eating only the absolute best at Kiran's. Halal chicken and lamb are also provided for guests. Located right in the heart of Houston, you will immediately feel welcomed here with the restaurants' earthy tones, excellent service, and plenty of exciting menu items. You can sit down at the bar for a drink, or you and your party can enjoy lots of laughter and memory-making together at one of the many dining tables. Kiran's offers afternoon tea every Friday, Saturday, and Sunday at 2 PM. If you are feeling like a cup of steaming tea and a scone, come on down!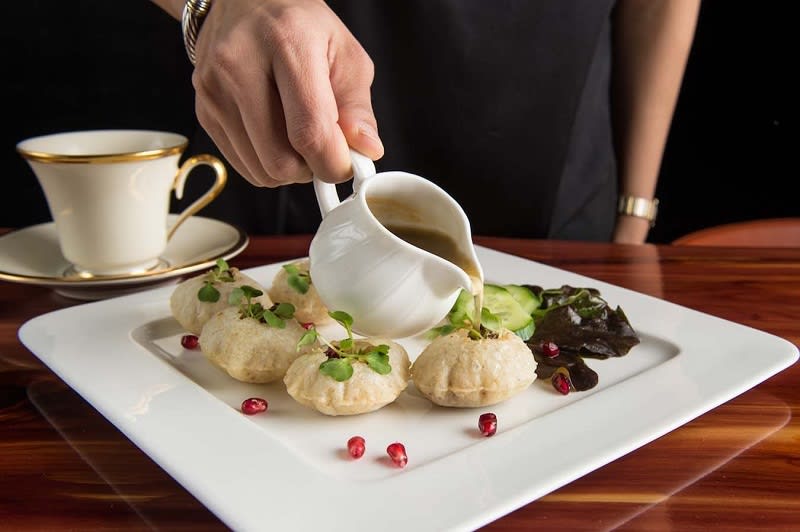 (Credit: Kiran's)


State of Grace
Wanting a warm-hearted and friendly dining experience? Come on down to the State of Grace restaurant! Open indoors with social distancing measures and COVID precautions in place, you can make your meal reservation online, pick your order up at curbside, or you can have your meal delivered right to your door through DoorDash. State of Grace offers a nostalgic glimpse into the past with its comfortable and retro atmosphere, deep passion for food, and vision to make each meal a memorable experience for family and friends to gather here. Perhaps one of the characteristics State of Grace is known for is its famous Oyster Happy Hour, where you can enjoy oysters at amazingly affordable prices. Don't miss out on this thrilling good deal every Monday - Friday from 4:30 PM to 6 PM. Or if you are feeling like celebrating or just wanting some quality time with friends, you can book a private party for the evening. With its slow-paced, relaxed vibe and hearty cuisine, you can create new memories to reflect on for the years to come!


Vic & Anthony's Steakhouse
Established by a father-son duo, Vic & Anthony's restaurant celebrates an award-winning menu with many exceptional items. All of their beef is grain-fed and all of the highest quality. Take your pick from their host of steaks, soups, and salads such as the filet mignon, NY strip, and lobster bisque. Vic & Anthony's is now open for dine-in, and you can quickly make a reservation on their website for your memorable dinner. Or if you want to eat at home, you can discover lots of fun and diverse options on the to-go menu. Wanting to give this memorable experience to a friend or loved one? How about purchasing a gift card from the restaurant and passing on this fantastic experience to someone else? Here at Vic & Anthony's, you can enjoy delicious food in a pristine and charming atmosphere, all the while looking forward to the good things to come in 2021!


The Rouxpour
Inspired by the French Quarter, the Rouxpour offers an elegant restaurant and bar experience. With food made in the spirit of New Orleans, you can find your favorite foods here, such as the flavorful chicken and sausage gumbo, the tasty crab and carrot bisque, and the fantastical bayou pork ribeye. As you relax with your friends and immerse yourself in this amazing dining experience together, you can try a variety of great drinks and cocktails. With multiple locations over the US, private dining and catering offered, you can take the Rouxpour adventure with you wherever you go! Never be far from your cravings and make all your seafood dreams turn into reality.

If you're looking to explore Houston real estate, contact Amy Chance today. As a talented real estate agent, Amy has extensive knowledge of real estate in the area. Whether you are looking for condos or homes for sale in Houston, Amy is ready to help you find your dream home.