Pinstripes
Gather with friends and family at a Houston establishment where elegance meets entertainment. Pinstripes is an eatery that combines casual sophistication and Italian-American cuisine with the fun and excitement of bowling and bocce. The restaurant also offers space to host a private party or large event, and allows hosts to curate the dining experience for guests. Pinstripes' dynamic ballrooms and private venues provide an elegant and comfortable place to gather and celebrate. This Houston favorite is known for its delicious bites and stellar customer service. No matter the occasion, you will enjoy your time spent at Pinstripes.

Pinstripes also offers catering and delivery services. The staff takes pride in providing spectacular catering services for breakfasts, lunches, and dinners seven days per week. Their chefs specialize in reasonably priced gourmet platters, hot breakfasts, quality lunch boxes, and wood-fired pizzas and flatbreads. As full-service caterers, Pinstripes can provide food and drink for just about any occasion.


Gatsby's Prime Steakhouse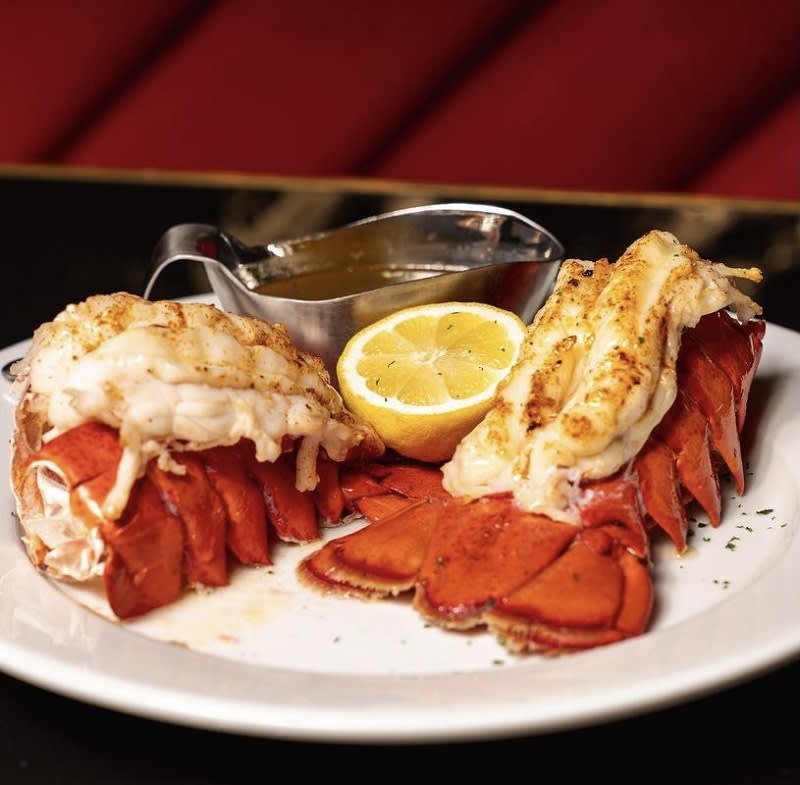 Photo credit: Gatsby's Prime Steakhouse

Elegance meets intimacy at Gatsby's Prime Steakhouse. This restaurant serves some of the finest steaks in Texas, as well as high-quality seafood. Their menu is diverse and sure to satiate any appetite. Gatsby's appetizer options include their classic crab cakes, deluxe deviled eggs with fried shrimp and bacon jam, and their tuna tartare with chipotle aioli, sushi-grade tuna, onion, avocado, and black sesame seeds. This Houston restaurant also offers a unique caviar menu for its guests. Patrons are able to select from two caviar options, the Russian Ostera or Beluga Hybrid.

When it comes to the main course, you are sure to be wowed by what Gatsby's has to offer. Notable menu options include oysters on a half shell, crab legs, lobster, and cocktail shrimp. All options can be tailored to your specifications. Their surf menu also offers salmon, twin lobster tails, Ahi Tuna, and steamed crab legs. If you're interested in their turf options, consider trying Gatsby's 8-ounce filet, 12-ounce Wagyu filet, 22-ounce bone-in rib eye, 22-ounce rack of lamb, or any of their other fabulous choices. You can top your meal off with one of Gatsby's delicious dessert options, such as Rangles Red Velvet, crème brûlée, brioche bread pudding, and more. Gatsby's Prime Steakhouse provides an excellent setting for private events, and whether you're looking to celebrate an exciting milestone or enjoy an elegant meal, you should definitely stop by Gatsby's Prime Steakhouse in Houston.


Traveler's Table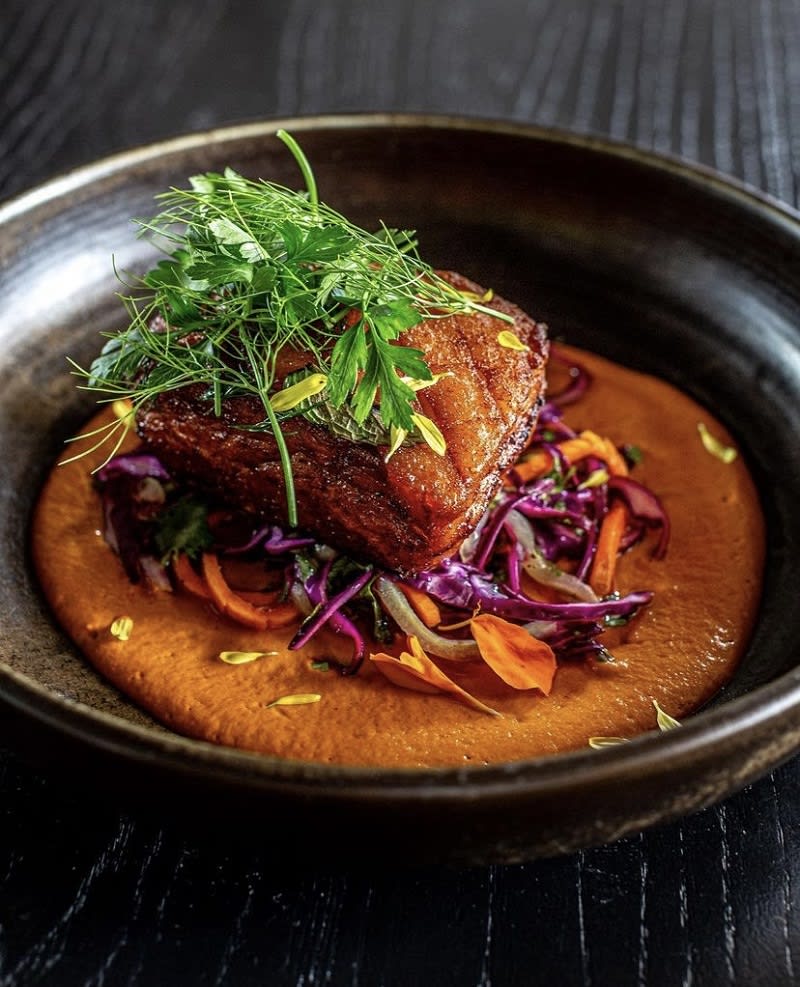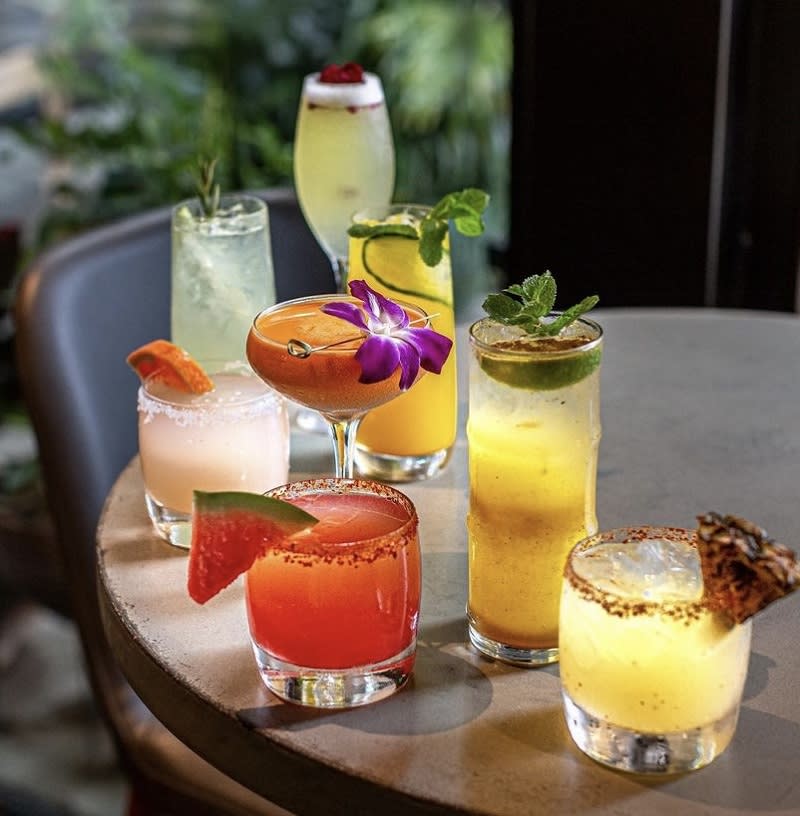 Photos: Traveler's Table

Take a trip around the globe with Traveler's Table. Traveler's Table is a multicultural eatery with top chefs and staff members who share a passion for discovering the world through food and drink. This refined Houston restaurant serves modern versions of hand-selected dishes from around the globe. Traveler's Table is fortunate to have a diverse team of chefs who bring their multicultural cooking styles and experiences together to create unique dishes and drinks. Traveler's Table seeks to modernize and elevate conventional dishes by making them lighter, brighter, and more flavorful.

Some of their popular dishes include the Stuffed ​​Pão De Queijo, a Brazilian cheese bread served with linguiça sausage, sofrito, and chimichurri and their shiitake edamame dumplings, with steamed vegetables, garlic, galangal, cilantro, pickled shiitake, Fresno chiles, and mushroom soy. Get a taste of African food and culture from their Africa and Mediterranean Menu, which offers Nigerian suya skewers, Moroccan lamb tagine, beef cheek ravioli, seafood risotto, and whole-roasted branzino. Traveler's Table also has a menu dedicated to the Caribbean, Latin America, Middle East, and India. Traveler's Table was recently featured in an episode of the Food Network hit Diner's, Drive-ins, and Dives with Guy Fieri.


Brenner's on the Bayou
Photo credit: Brenner's on the Bayou

Voted "Houston's Best Steak" by the Houston Chronicle, Brenner's on the Bayou is a delicious luxury for any resident or visitor. Dine inside and enjoy a comfortable space with a warm, elegant ambiance, wood finishes, and a stone fireplace — or check out their picturesque outdoor seating. Brenner's on the Bayou is an elegant steakhouse and seafood restaurant with a cozy bar area, wine cellar, and spacious patio. Their head chef, Jose Parada, aims to deliver a world-class experience for guests by using only the freshest ingredients in his dishes.

Brenner's on the Bayou was named "Brenner's Café" when it was opened in 1936 by husband and wife Herman and Lorene Brenner. Herman and Lorene met at a restaurant in downtown Houston where they both worked, and the two decided to open their own restaurant while Herman was still working as a waiter at the Rice Hotel. The restaurant served breakfast, sandwiches, fried chicken, and a few steaks, which were a rarity at the time. By the 1950s, The Brenner's started serving a prime beef filet for $3.50. Over the years, the restaurant has been moved and renovated, morphing into the upscale dining experience it is today.

Brenner's on the Bayou has unique menus with a variety of appetizers and main courses. Their main menu has a few shareable options, including the gulf oysters, roasted oysters, tuna tartare, Texas quail, and a seafood tower. Main dishes include Renaissance Farms roasted chicken, crispy duck leg confit, herb-marinated ostrich tenderloin, and — of course! — excellent steaks. Brenner's also offers an extensive seafood menu, a weekend brunch, and mouth-watering dessert. Brenner's on the Bayou is a wonderful Houston location to gather with loved ones and enjoy excellent food.


Moving to Houston?
If you're planning to move to Texas and are interested in Houston real estate, contact Amy Chance today. Amy has trustworthy, local knowledge of Houston's neighborhoods and will help you find the right home for you and your family.