Toaster's Downtown Brunch-Lunch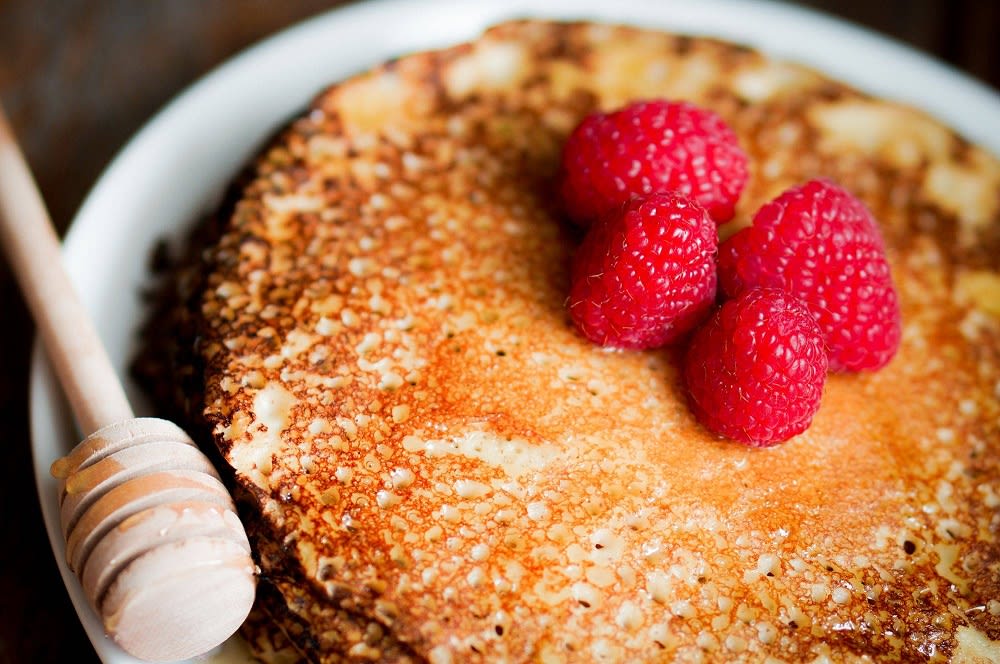 Photo Source: Toaster's Downtown Brunch-Lunch
Located in the heart of downtown Houston is Toaster's Downtown Brunch-Lunch—the perfect hole in the wall for a quick bite or a sit-down meal. Toaster's offers breakfast all day, as well as a selection of lunch courses. Notable options include their signature sandwich, the Toaster, served with crispy bacon, sausage patties, or a slice of ham; and their breakfast burrito served with your choice of chopped bacon, sausage, ham, hash browns, and ranchero beans.

Toaster's Downtown Brunch-Lunch offers the option to create your own omelet with any meat or vegetable of your choice. Breakfast plate options include the classic breakfast, country breakfast, classic eggs Benedict, and shrimp and grits. Toaster's Downtown Brunch-Lunch is open seven days a week, 7:00 a.m. - 3:00 p.m.

Location: 1004 N. San Jacinto St. Houston, TX

Houston Breakfast Klub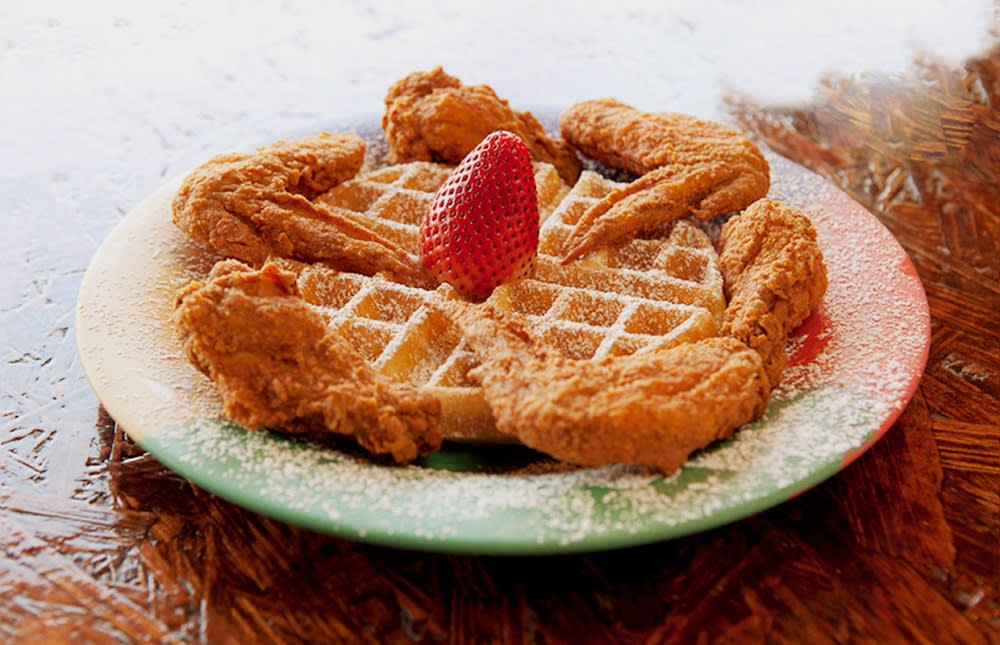 Photo Source: Houston Breakfast Klub

Black-owned and voted both Best Breakfast and Best Family-Friendly Restaurant by The Houston Chronicle, The Houston Breakfast Klub is a fan favorite of both locals and visitors. When The Breakfast Klub launched in September 2001, owner Marcus Davis wanted to build on something that represented who he was as a professional and as a man of service. Davis is known for his charismatic personality, authentic appreciation for customers, and unconditional commitment and service to his community. Applying these characteristics to his restaurant is what's helped make it a fan favorite.

The Houston Breakfast Klub is known for its two signature dishes, Katfish & Grits and Wings & Waffles. Other breakfast plate options include Pork Chops and Eggs, Green Eggs and Ham, Kountry Sausage and Eggs, Biscuits and Gravy, and The Breakfast Special, which comes with a choice of bacon, sausage, or ham, and two eggs served with potatoes or grits. Breakfast sandwich options include The Breakfast Klub, Three Egg Omelets, and The Swissmush.

The Houston Breakfast Klub continuously receives reviews and recognition from "Good Morning America," USA Today, Esquire Magazine, and Forbes Magazine.

Location: 3711 Travis at Alabama, Houston, TX

Snooze Eatery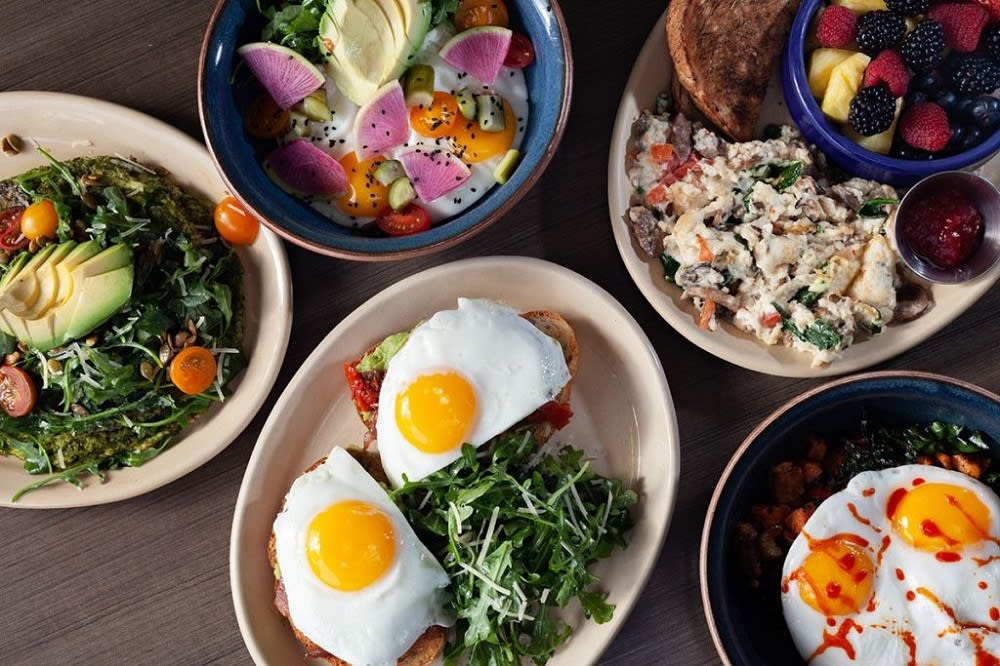 Photo Source: Snooze Eatery

Serving multiple locations across the country including Arizona, California, Colorado, and Georgia, Snooze Eatery constantly receives recognition from Thrillist, Condé Nast, and Full Service Restaurant. In Houston, Snooze Eatery offers three locations and has nearly a five-star rating and many Houston residents agree that it's a perfect spot for brunch or a casual family breakfast. At Snooze Eatery, the bar is always open, and the chefs there are dedicated to serving a healthy and fresh breakfast to anyone that walks in. There are many popular selections to choose from including Eggs, Omelets, and Breakfast Riffs, Plant Power, Benedicts, Pancakes and French Toast, sandwiches, tacos, and burritos, and a rotating seasonal menu.

The Snooze Classic, Three Egg Scramble, Corned Beef Hash, Shrimp and Grits, and Breakfast Potato Pie are each excellent. The most popular selections off their plant-powered vegan menu include the Bravocado Toast, Sweet Potato Veggie Smash Up, Garden Harvest Omelet, and the Tofu Scramble.

For a full list of menu and dish options head to the Snooze Eatery website.

Locations:
3217 Montrose Blvd Suite 100, Houston, TX
5000 Westheimer Rd Suite 120, Houston, TX
718 W 18th St, Houston, TX

The Toasted Yolk Café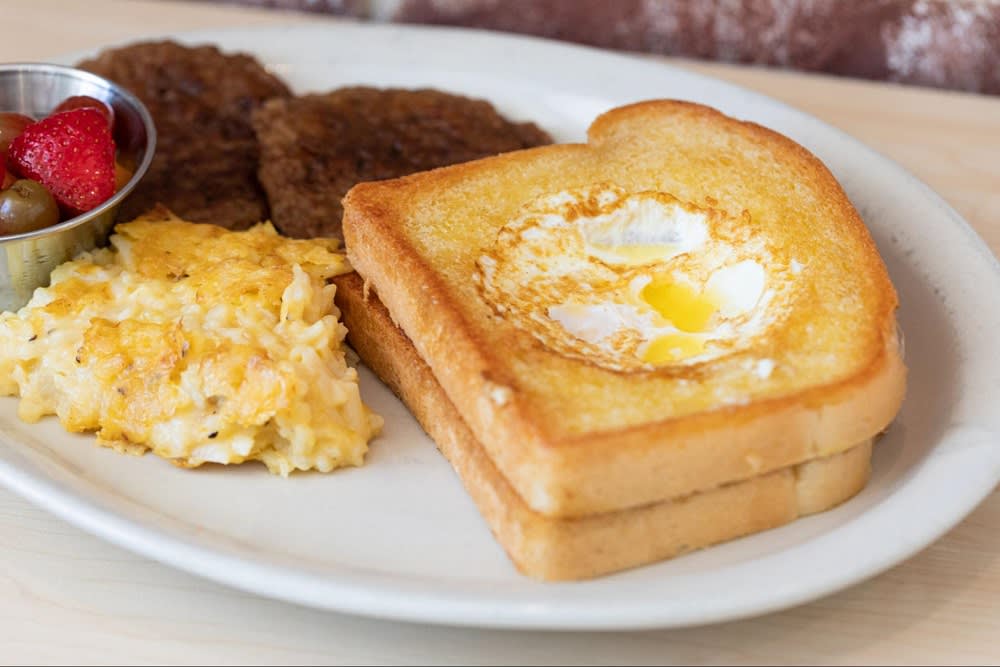 Photo Source: The Toasted Yolk Café

The Toasted Yolk Café has multiple locations throughout the state of Texas (with several more scheduled to open in Houston) and aims to change the way its customers view breakfast. Everything is made from scratch including sauces, dressings, pancakes, and waffles. The Toasted Yolk Café is known for its signature Shrimp and Cheese Grits, which are topped with sautéed garlic shrimp, bacon, and diced tomatoes. The café offers the Sweet Bookends menu, featuring blueberry and churro doughnuts, as well as a yogurt parfait.

The Toasted Yolk Café is widely known for its egg specialties including the Cowboy Scramble, Wheatwich, Cordon Bleu Sandwich, Yolkwich, The Toasted Yolk, Brisket Tacos, and the breakfast burrito. All items come served with a choice of hash brown casserole or grits. Be sure to try their buttermilk pancakes, French Toast, or Belgian Waffles made from scratch.

Le Peep


Photo Source: Le Peep

Locally owned and operated, Le Peep has five locations in Houston. Since its inception in 1987, it has been consistently ranked one of the best breakfast spots in town. It's the perfect breakfast restaurant to get your day started whether you're having a morning meeting or enjoying some quality time with family.

Staff and chefs at Le Peep take pride in their menu selections, including its health club menu, developed by the world-renowned nutritionist, Keith Klein. Other menus include coffee, bar, and catering menus. A few favorites from their health club menu include the Health Nut, which is served with six scrambled egg whites stuffed with smoked turkey and fresh seasonal vegetables, as well as your choice of fruit. Other selections from the health club menu include Mother Earth, Spa Lumber, Healthy Benedict, Mega Spa Lumber, and Tacos Blanco.

Hunting for Houston homes for sale?

If you're planning a move to Houston, or are interested in investing in Houston-area real estate, contact local realtor Amy Chance today. Amy provides her clients with trustworthy market analysis, keen negotiation, and the best real estate customer service in the city. When you're ready to find your Houston dream home, reach out to Amy and her team.