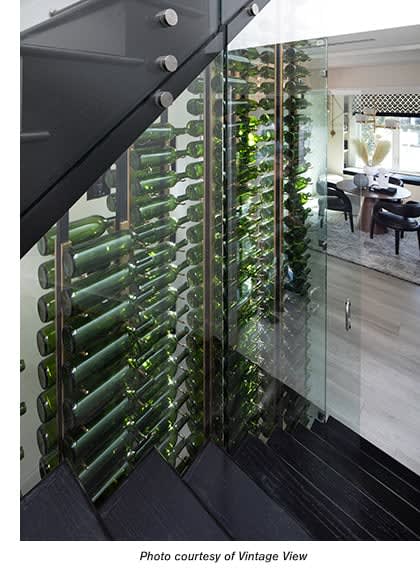 With wine consumption and appreciation on the upswing, in-home wine rooms will become an increasingly popular trend.
--Kevin Rosinski, senior vice president of home builders Toll Brothers Arizona Division

The wine market continues to grow in the United States, which means that demand for storing all of those bottles—from fine vintages meant to cellar for decades, to easy-drinking selections created to enjoy in the next year—is on the rise. A wine enthusiast's carefully curated selection deserves more than a kitchen cupboard for storage and display. Once considered an indulgence only the rich could afford, wine cellars now enjoy widespread use by those with a simple love of the vine. Today's wine cellars are designed according to individual taste and capacity, with fuller scales running the length of a basement and smaller models fitting easily into a corner compartment.
For those who are looking to incorporate a wine cellar into their own home, it's essential to first assess your space to determine the best fit and value. Whether you opt for a seated bar, simple rack compartment, or full-scale cellar, you will want to make sure you are storing and sipping your vino in the right conditions. The final design often depends on the wine collection itself, such as whether you prefer a tall wine fridge or dry enclosed chamber with minimal sunlight. Additional features can include wine glass and corkscrew counters, as well as tasting stations.
With smart design, early planning, and a firm understanding of traditional wine cellar considerations (such as cooling needs), top design and build professionals are finding it easier than ever to introduce wine cellars into any room of the home. Behind glass, on wet bar walls, and more, wine displays are every bit form and function that bring enjoyment to the homeowner and value in the resale market.
31% of homeowners with an annual income of more than $150K rate a wine cellar as the most desired home amenity.*
Zillow, a leading real estate firm, reported in 2019 that 31% of homes with wine cellars sell for above expected values.*
*Source: Hansen, Kristine ― Raise a Glass to Wine Cellars, a Luxury Amenity Many Buyers Demand ‖ realtor.com. National Association of REALTORS® and Move, Inc.
Wine Storage Tips: Temperature
Recommendations for storing wine for months, years, or decades are blind to wine color. The ideal temperature is 55°F. The lower the temperature, the slower the aging. Avoid storing wine below 45°F or above 70°F. Also avoid proximity to heating vents, lights, or appliances that give off heat (such as a stove or refrigerator). Fluctuations lead to the expansion and contraction of the bottle, introducing oxygen from the surrounding room into the bottle. Although wine breathes through the cork and requires oxidation, excessive or uncontrolled oxidation will negatively impact the aging process.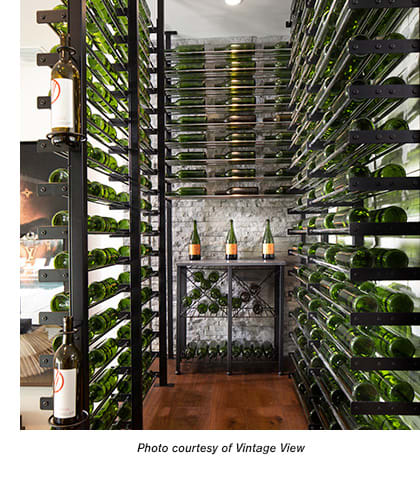 Wine Storage Tips: Bottle Position and Humidity
Bottles with natural cork enclosures require constant moisture. Placing a wine on its side will allow for longer aging. Bottle position is not important for wines with screw caps, or glass or plastic corks. The ideal humidity level is around 70 percent with a target range of 50 to 85 percent. Controlling humidity is a much more important consideration for cellars/rooms in desert or tropical climates and for collections that will store wine for 10 or more years. The proper humidity level will help keep natural cork from crumbling.
General Wine Storage Tips: Vibration and Direct Light
Vibration affects the aging process, expediting chemical reactions and advancing maturity, undermining the benefits of long-term aging. Wine should be stored away from potential sources of vibration such as mechanical rooms and appliances. Energy from natural light sources can also accelerate chemical reactions, causing premature aging. UV exposure in particular prematurely ages wine; indirect natural light or no natural light at all is best. Household lights do not cause notable damage, but they do emit heat, which needs to be accounted for. LEDs are preferred.

Wine Storage Tips: Cork Forward vs. Label Forward
Cork forward is the traditional method of storing wines in a cellar and is named simply after the element of the bottle seen when the bottle is in its cradle. Label-forward displays put the wine on its side with the label art facing out, creating increased interaction between the user and the bottle of wine. This can also make it easier to find specific bottles.

Cost and Return on Investment
Wine cellars are often considered to be a required amenity in the luxury housing market, generally defined as the top 5 percent in value in any given market. In the midrange housing market, whether the wine cellar adds value to a residence will be buyer specific.
How expensive is the total wine cellar project? A wine cellar will add $1,000 or more to the value of the home. In some applications, it can be a dollar-for-dollar investment, but as with most home remodel projects, there is a cap on the dollar-for-dollar return. For example, a $5,000 wine cellar might recoup $5,000, and a $20,000 cellar might also recoup $5,000.


Listen to one homeowner's custom home wine cellar story: