If you want your home to make a statement, it starts with curb appeal. If you are looking to sell your property,
71% of homebuyers
of Houston homes for sale say curb appeal affects their decision. Updating the exterior of your home can make a dramatic statement. Just adding landscaping can turn a boring, grass-only lawn into one with visual appeal and excitement. The bigger the update, the bigger the statement, and the more you will elevate the exterior of your home. However, some small changes can make a big difference. They can even increase the value of your home.
Whether you are looking to update the exterior of your home so you can enjoy your outdoor spaces more, or if you are preparing your home for sale, here is how you can bring an elevated feel to the exterior of your home.
The Front Door
A gorgeous entry to the home increases your curb appeal and could increase the value of your beach house in Galveston. A front porch with a few chairs or a bench swing immediately conjures ideas of relaxing evenings in the shade. Adding a front porch, if you don't already have one, adds another outdoor space to your home and can increase the value of your home. The coziest porches have a comfortable sitting area and a small table for a tall glass of lemonade. They are surrounded by landscaping and have a few potted plants nearby. They will be the first thing people notice about your property, even if they are just driving by. Painting the front door a vibrant,
trendy color
adds some fun to the front porch and is easy to switch out when color trends change.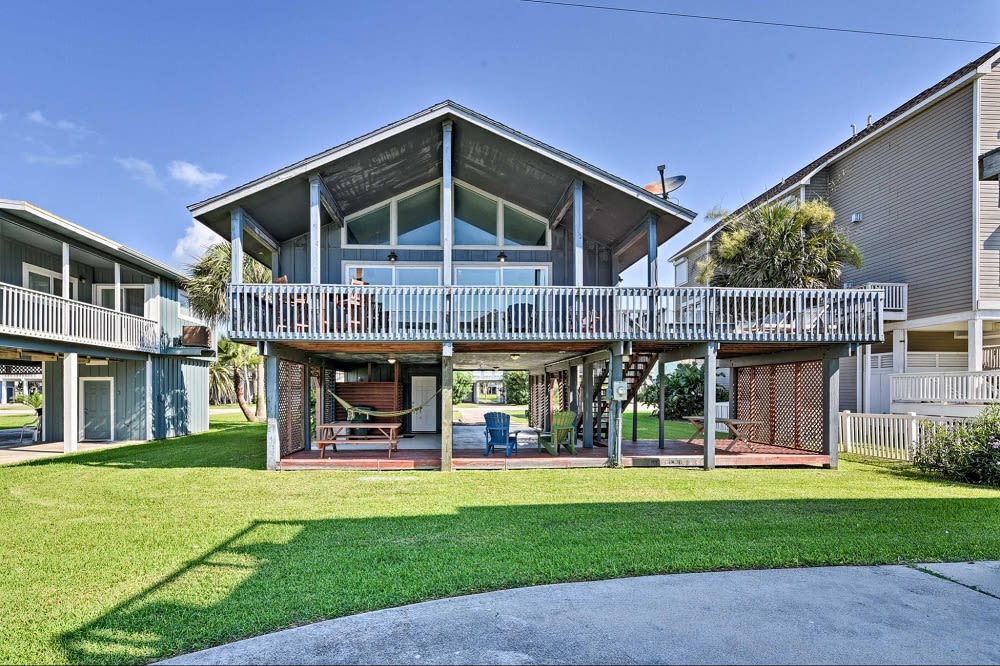 Credit: Airbnb
The Garage Door
The garage doors take up a large visual space on the exterior of your home. If they are outdated, the entire home will feel outdated. If they are worn out, the entire home will seem more worn. Replacing the garage door on Houston homes for sale is a quick way to give your home an instant modern vibe. Keep in mind, your new garage door needs to match the style of your home. A sleek, minimalist door will not look right on a brick cottage home. The best news is that it is an inexpensive way to add value to your home. You could recoup up to
90%
of your investment when you sell the property.
Pathways
Exterior lighting makes a dramatic visual statement. If you are listing your beach house in Galveston for sale, be sure to include night photographs showing your exterior lighting. Over
90%
of new homebuyers are looking for properties with exterior lighting. Good exterior lighting will provide safety by illuminating pathways and sidewalks. Lights with motion sensors will help protect your home from unwanted persons on your property. Well-placed lighting will accentuate the architecture of the home and highlight beautiful landscaping. There are plenty of wireless options for outdoor lighting in a variety of styles that are easy to install. If you need to do any repairs to your sidewalks, or need to add hardcover pathways, try to avoid straight lines. Winding pathways mimic nature and feel more elevated than straight lines and 90-degree angles.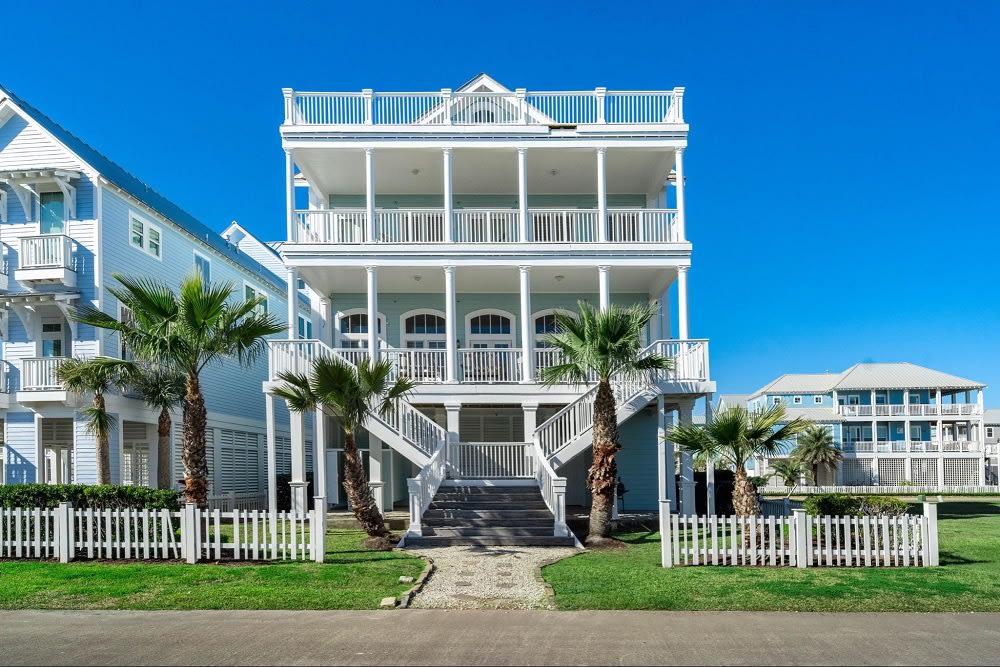 Credit: Airbnb
Outdoor Kitchen
People used to dream of having an outdoor kitchen, now they feel they need them. Outdoor kitchens are so in demand for Houston homes for sale; you will recoup almost twice your investment if you install one. This is a side-effect of the pandemic that isn't going away. People have re-discovered the joy of mealtime with their family and don't want to give it up. Outdoor kitchens provide a way to turn a regular dinner at home into a more elevated event. Using a grill, and if you have the space for it, a
pizza oven
, adds excitement to cooking and makes everything taste better. You don't have to have a full bar and seating for twelve, though those are nice, too. The key items to have are a comfortable dining area, built-in grill, and lighting. That's all you need to turn your patio into an elegant cooking and dining area.
Landscaping
Landscaping, even on the most contemporary minimalist home, is a key ingredient to elevating the exterior of your home. Good landscaping can turn a boring lawn into an oasis. It can create more outdoor spaces to relax or entertain in. It can make unusable areas of your property visually stunning. From adding a few bushes to installing pergolas, retaining walls, or ponds, any improvement to your landscaping will add visual appeal to your property. It will serve you best if you plan ahead. Trees, as well as some bushes and perennials, take a few years to show their beauty. When designing your landscaping you will want to keep it in the same style of the home and the rest of the property so everything is visually unified. If you are preparing your beach house in Galveston to be listed for sale, choose
easy to care for
plants and bushes for the landscaping. Avoid water fountains and other items that require regular maintenance as it will turn some homebuyers away.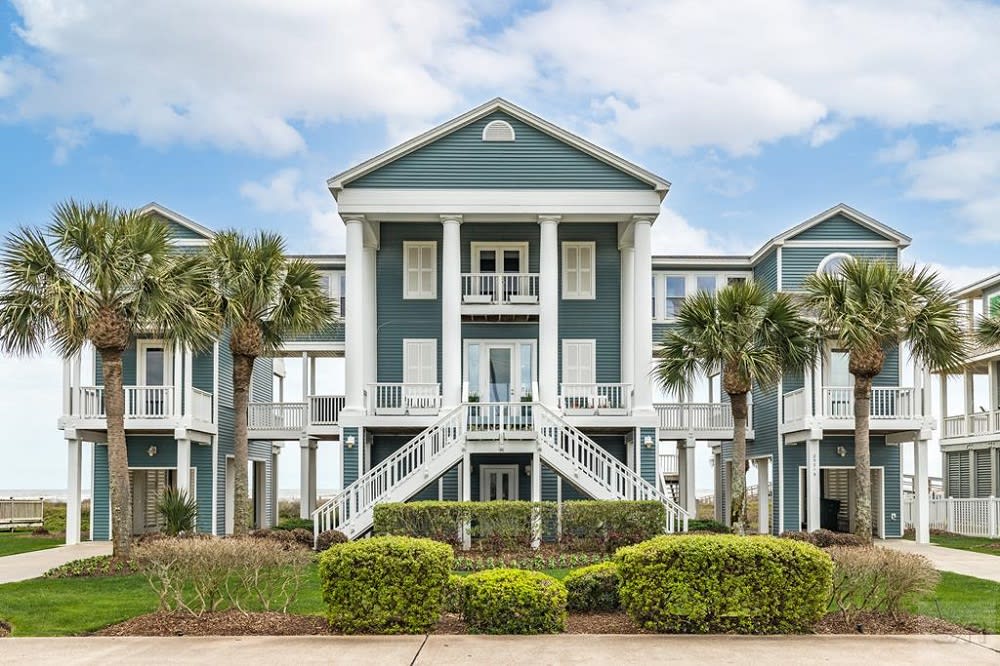 Credit: Beachhouse.com
The siding
We can't talk about elevating the exterior of your home without talking about the actual exterior of the home. Your home's physical exterior is the most important contributor to the look of the outside of your home. Whether your exterior is stone, vinyl, or wood, it needs to be in good condition. You can do a simple update to the exterior by painting it, even if it is brick. But if the siding is worn, the repairs must be tended to, first.
Stone veneers
on the home are a great way to elevate the siding of Houston homes for sale. You can use them on porch columns, around the garage doors, or across the entire front of the home.
Amy Chance
has experience helping homeowners and investors find the best real estate for their needs and is always happy to help.