Longing for a getaway without having to leave the Lone Star State? Take a staycation!

While Texas is known for its inspiring metropolises like Dallas and Austin, one can find a plethora of charming towns scattered across the state. From Hill Country to the border of New Mexico, the fabric of Texas is made up of small communities bursting with historical sites, delicious eateries, and outdoor adventures. Let's take a look at some of our favorites.

Boerne

Located in the Texas Hill Country, the quaint town of Boerne was settled by German immigrants. The history of the town is detailed at the Kuhlmann-King Historical Complex and AgriCultural Museum and Arts Center, and Boerne's impressively long heritage is represented by the mature cypress trees seen throughout. In the town's center is Main Plaza, which features a historic gazebo hosting all types of festivals and celebrations throughout the year.

Boerne's downtown area — known as the Hill Country Mile — is home to a plethora of enticing shops and local restaurants. From clothing and jewelry to home goods and artistic pieces, there is no shortage of chic boutiques on Main Street, including the original Black Rifle Coffee Company retail shop. A veteran-owned and operated business, Black Rifle Coffee Company is known for brewing a strong cup of joe. Hill Country Mile is also the location of many annual events, including Boerne's "A Dickens Celebration" which brings the holiday spirit to the town starting on Thanksgiving weekend and continuing through December.

Apart from Main Street, there are fantastic restaurants and bars to visit in Boerne. For stellar meals and cocktails with a beautiful view, dine at Peggy's on the Green. If you're looking for classic pizza and beer served by the friendliest staff, Z's Wood Fired Pizza is the ticket.

Borne is also fortunate to have a great deal of outdoor space to be enjoyed. The Cibolo Creek Trail is a lovely path along the water which runs from Boerne's Main Plaza to City Park. Nearby are the Cascade Caverns - a "Living Cave" which boasts tours of its breathtaking Cathedral Room.

With its intoxicating mix of old and new, locals and visitors alike enjoy the nostalgia of Boerne.




Credit: austintexas.org

Salado

About an hour away outside Austin is the town of Salado. Situated on Salado Creek, this small town mirror's its neighboring city's exciting cultural variety.

Start your day off at Salado Glassworks and blow your own glass houseware or mold pottery. Visitors can also purchase the art studio's custom bowls, plates, sculptures. For those looking for a shopping destination with a little bit of everything, The Shoppes on Maine features more than 25 shops in one location, making it one of Salado's most popular boutiques.

When you're ready for a drink, head over to Barrow Brewing Company. This town brewery is housed in a revived barn and offers a wide range of craft beers. Just outside the brewery, you will find local food trucks, and the venue hosts live music on the weekends. For those who prefer wine, the Salado Winery Company has a range of whites and reds all produced with Texas-grown grapes.

If you're a golf aficionado, Mill Creek Country Club has a gorgeous 27 hole course designed by world-renowned Robert Trent Jones. Highlights include a striking heart-shaped green on the third hole. For overnight accommodations, the Shady Villa Hotel is a popular choice. Previously the Stagecoach Inn, this bed and breakfast was established in 1861 and has housed notable figures such as Sam Houston and Jesse James.

Defined by its artistic and historical atmosphere, Salado is bursting with small-town charm and is not to be missed.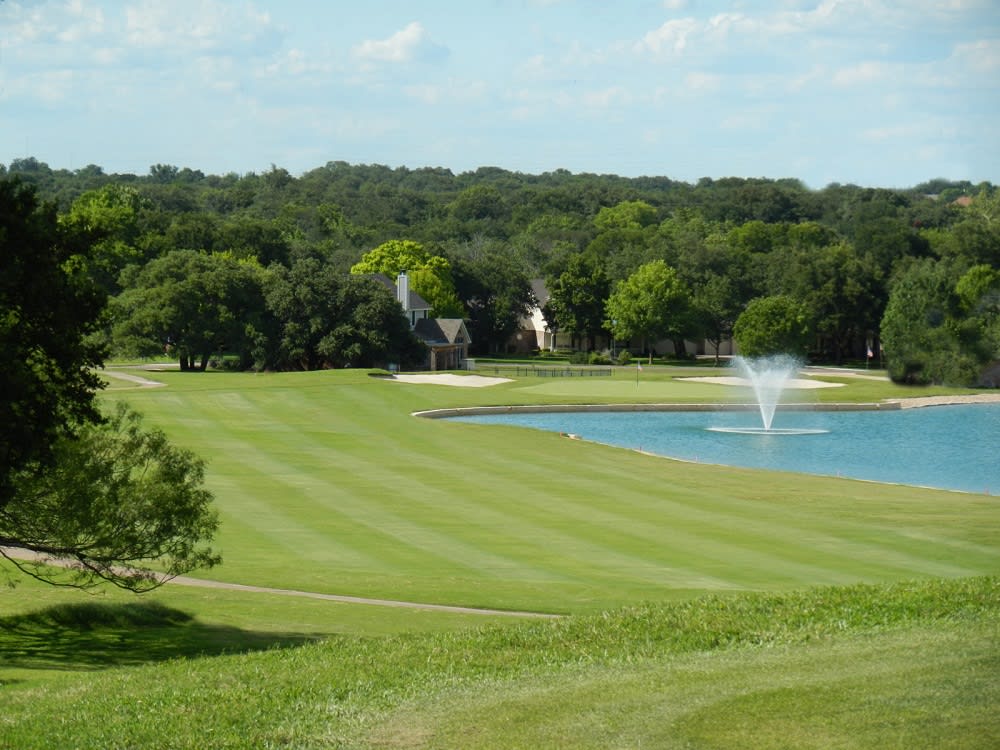 Credit: Mill Creek Country Club


Dripping Springs

Known as the "Gateway to Hill Country," Dripping Springs is the place to go for outdoor adventures. Located just outside of Austin, the town is also home to an assortment of exciting distilleries and wineries.

Hamilton Pool Preserve is an iconic spot to beat the Texas heat. One of the most picturesque sights in Texas, this pool is a geological wonder with its majestic canyon, grottos, and waterfall. If you're seeking more of a thrill, head to Reimers Ranch Park. Here, you can rock climb, hike, or mountain bike while admiring the grand limestone cliffs. The park also provides fantastic swimming opportunities at the Pedernales River.

Deep Eddy Vodka, a prized local business, is known for its award-winning flavored spirits. Take a tour of their tasting room and try their flavorful Ruby Red Vodka infused with grapefruit. Bell Springs Winery is another Texas-owned and operated enterprise with its small-batch wines and chef-prepared cuisine at its onsite restaurant. While breathing in the fresh air and gazing at the surrounding rolling hills, enjoy savoring the wine tastings with a variety of dinner options from the nearby food trucks.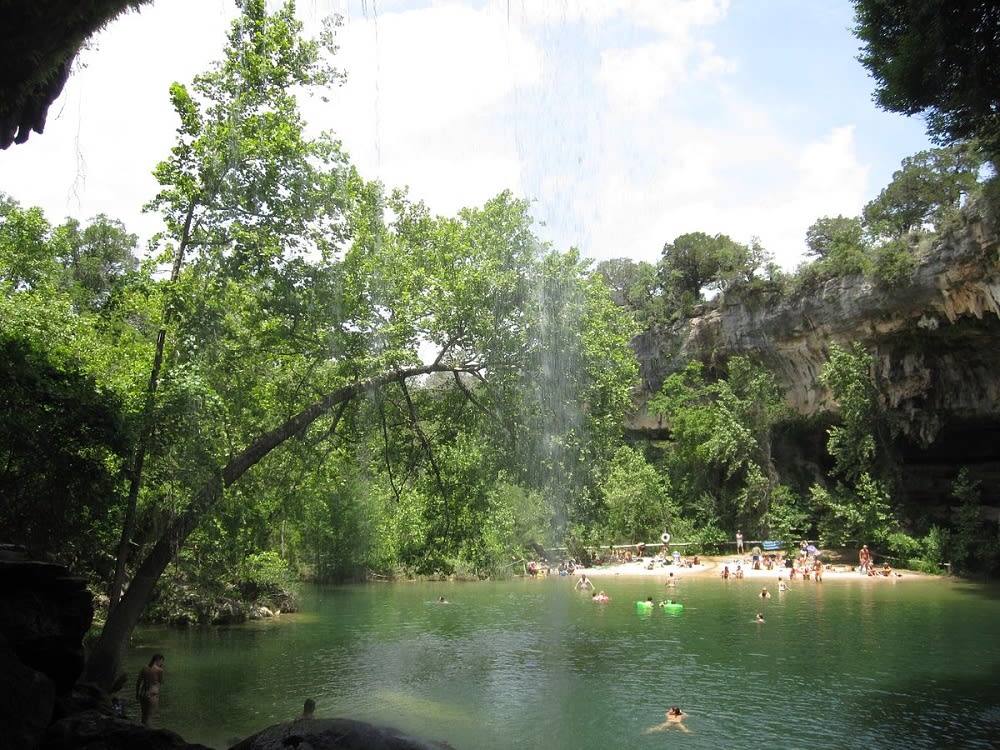 Credit: Tripadvisor

Marfa

Boasting natural wonders and world-renowned cultural destinations, this tiny town located in Far West Texas is one of a kind.

Throughout the magnificent desert landscape, you'll come across striking billboards and murals like the iconic The Stardust Motel Sign. This sign, no longer leading to a motel, now serves as the entrance to an RV park. Paying homage to Marfa's cinematic past, the Giant Marfa Mural depicts characters and scenes from the 1956 movie "Giant" which was filmed in the town.

If you're superstitious, keep your eyes peeled for the Marfa Lights. These legendary lights began during the 19th century and still can be seen to this day. Flashes of blue, white, and red emerge randomly in an uninhabited and isolated area of town and are celebrated by the annual Marfa Lights Festival so people can see this mysterious phenomenon for themselves.

The Marfa Spirit Co. is a great place to unwind and savor a glass of Mexican sotol after a long day visiting this Western town. Spend the night at Basecamp Terlingua and admire views of the mountains from Big Bend National Park. The gorgeous starlit night skies can also be enjoyed by renting out the many idiosyncratic options available - luxury tipis, casitas, bubbles, retro trailers, lotus tents, or even a classic campsite.

With its larger-than-life attractions contained within its small borders, Marfa epitomizes the spirit of "everything is bigger in Texas".

Rockport

Discover the vibrant Texas coast by taking a staycation to Rockport, home to top-notch fishing and an alluring laid-back beach vibe.

Spend the day swimming and picnicking at the peaceful Rockport Beach. This hot spot of the town is complete with amenities like loungers, volleyball courts, and grills so the whole family can enjoy a day out in the sun. Looking to catch some fish? A wide variety of marine life surrounds Fulton Pier, and you're even bound to spot a dolphin or two. For deep-sea fishing, taking a boat out from the pier is an option as well.

A trip to the coast is not complete without enjoying the freshly caught seafood. Located along the waterfront, Charlotte Plummers is a Rockport staple and has a menu of mouthwatering dishes such as fried shrimp, crab cakes, and a blackened or grilled catch of the day.

A hidden gem of Texas, visitors enjoy the distinctive flavor of this coastal region in Rockport.

Fredericksburg

The German town of Fredericksburg is a lovely place for your next getaway. An hour from both San Antonio and Austin, this picturesque town is located in the center of Texas Hill Country.

Indulge in a shopping spree at Fredericksburg's Main Street. Known as the "Magic Mile," all of the shops on this street are locally owned and full of antiques, clothing, and furniture. There's also a robust dining scene in this area to explore, with local favorites such as Otto's German Bistro serving farm-to-table German cuisine with traditional items like bratwurst and schnitzel. Don't forget to order a Pilsner, as the Germans are known for their beer.

Wildseed Farms is another stop to make in Fredericksburg, as it's the largest wildflower farm in the nation. Make your way through fields of vibrant bluebonnets — the state flower of Texas, red corn poppies, sunflowers, and phlox.

During the holidays, Fredericksburg becomes even more enchanting. The town's Marktplatz is filled with holiday decor and the trees are adorned with lights. Fredericksburg even puts up a full-blown outdoor ice skating rink and erects a fully decorated Christmas tree.

With delights around every corner and a quirky ambiance, locals are proud of the variety this town brings to Texas.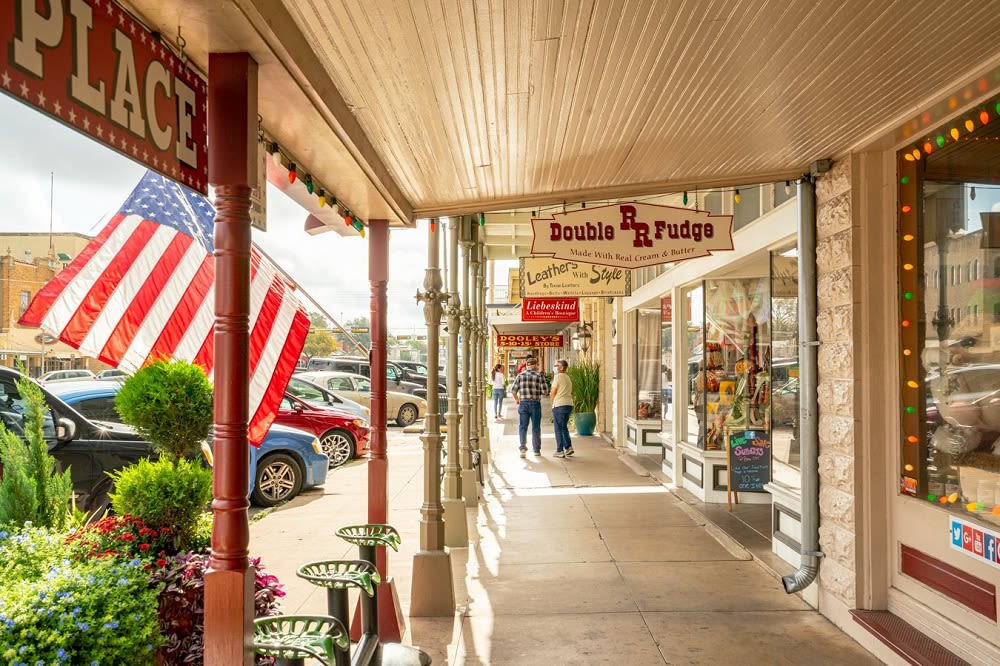 Credit: Lone Star Travel Guide

Gruene

A historic district of New Braunfels, Gruene will take you back to another era, as this German town's rustic and hospitable atmosphere is unlike any other.

While strolling through this adorable town, be sure to step inside the Gruene General Store. Built in 1925, the shop purveys nostalgic souvenirs and Texas-made products, and is an excellent place to indulge your sweet tooth with handmade fudge, candies, and ice cream too.

Grab lunch or dinner at the Gristmill River Restaurant & Bar, adjacent to the refreshing tranquility of the Guadalupe River. The Gristmill has indoor and outdoor dining with views of the waterway and is known for its southern chicken-fried steak.

End your day at Gruene Hall for live country music and two-step dancing. Established in 1878, this venue is the state's oldest dance hall and has hosted famous country stars such as Willie Nelson, Garth Brooks, and George Strait.

Steeped in its past as a frontier town, Gruene is the epitome of the small-town Texas lifestyle.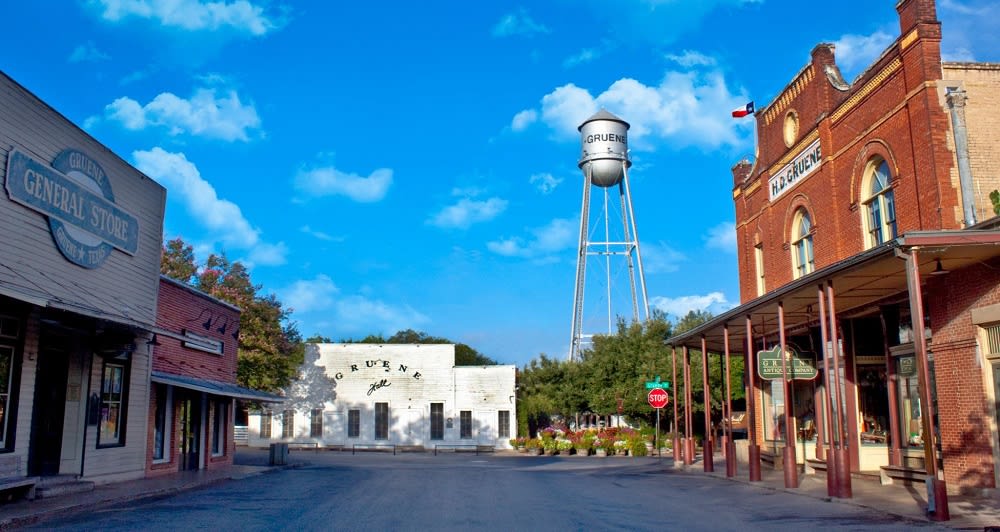 Credit: Tripadvisor

Amy Chance Real Estate

If you are looking to buy or sell a property in Texas, contact Amy Chance. Amy is one of the most sought-after and well-respected real estate agents in the state. Whether you're interested in Houston condos, a Galveston beach house, Austin townhomes, or Dallas luxury homes, Amy Chance will guide you through every step of your search.