Galveston Bay packs an incredible amount of exciting entertainment within its 28-miles of land. There is plenty to enjoy in this dynamic community, from historical sights, amusement parks, gardens, and so much more. Here are a few of our favorite things to experience in Galveston Bay!
Galveston Go-Karts and Fun Center
Galveston Go-Karts and Fun Center provides spirited fun for all ages. Visitors and owners of Galveston luxury homes will find a virtual reality
arena cage
where you can shoot zombies with your friends or enjoy the thrills of a VR roller coaster. The fun center also offers bumper cars, ax throwing, and an
outdoor track
for the go-karts. Visitors can refresh themselves on soft drinks, snacks, and refreshments at the indoor found counter and treat themselves to some of the
latest games
in the impressively outfitted arcade area.
Moody Gardens: Galveston Island
Moody Gardens
is a non-profit nature center aiming to advance conservation, rehabilitation, research, and educational efforts. The resort is a premier leisure facility and attracts around two million visitors a year with attractions for all ages, but the golf course is one of the major draws. The course is the
best public seaside course
in Galveston and features a brand-new new fleet of golf carts, remodeled pro shop and clubhouse, and a sizable practice range. Golfer aficionados and day-players alike will enjoy a high-end experience at Moody Gardens.
Weddings, whether large or intimate in size, can be planned and held on the 242 acres of gulf beauty in Moody Gardens. The venue sports gorgeous ballrooms and
luxurious accommodations
, making it the perfect location to host a remarkable, fully catered event.
Moody Gardens features first-class staff, catering, fine dining, and other amenities. If you're in search of relaxation,
their full-service spa
is an excellent place to enjoy a rejuvenating massage and indulge in some holistic healing. The spa resort caters to locals, couples, and groups and offers a wide range of treatments. For those with yachts or other boats, one can arrive at the resort in style by docking their vessel at the thoughtfully appointed
Galveston marina
. With eighteen slips offered year-round, residents of Galveston will always have the option to arrive at Moody Gardens by the sparkling gulf waters.
Moody Gardens is known for its iconic pyramids, one of which houses an incredible aquarium while the other sports a lush rainforest on the inside. The center features a discovery museum, horticultural education, and animal experience where visitors can go behind the scenes and learn more about the animals. The center also hosts 3D and 4D films, screening nautical-themed classic movies and documentaries like
20,000 Leagues Under the Sea
,
Wings Over Water
,
Sea Lions
, and
Great White Sharks
. In addition to
world-class attractions
, there are plenty of gift shops, cafes, bars, restaurants, and more to explore. With its impressive variety and quality experiences, Moody Gardens is a destination-worthy adventure Galveston locals get to enjoy in their backyard.
Schlitterbahn Waterpark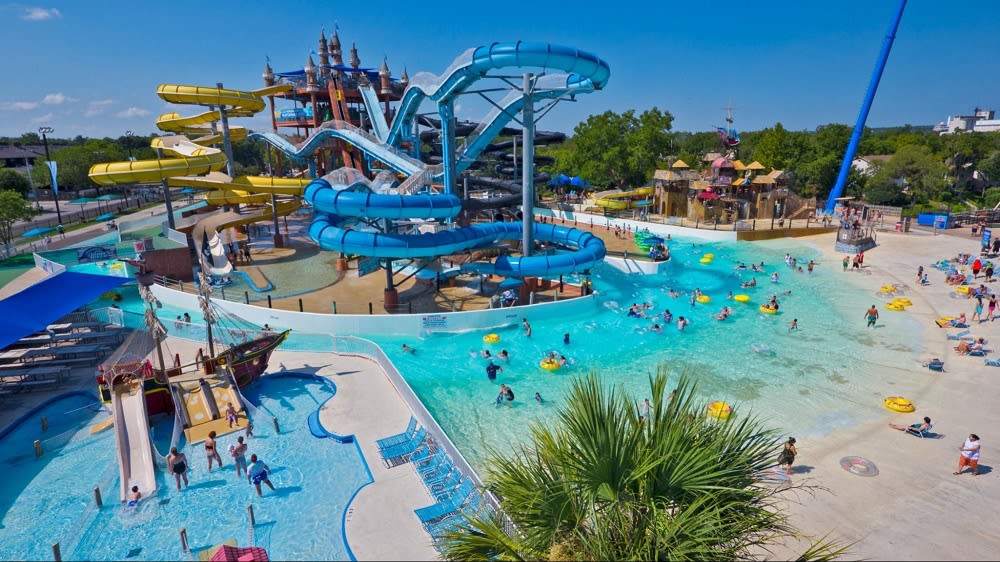 Cool off from the hot Texas sun at this exciting adventure park. Popular with children and adults alike, a visit to Schlitterbahn Waterpark is sure to create unforgettable memories. Guests can enjoy many water activities, including kids' activity play areas, zero-entry beaches, heated pools with swim-up bars, a wave pool, a tidal wave river, and a few
not-so-lazy-rivers
.
For a bit more excitement, visitors also enjoy the
multiple body slides
, rafts slides, uphill water coasters, and a surfing adventure. Guests usually spend the whole day here and can visit one of the many differently sized cabanas when they're hungry and need some rest. The varied cuisine includes a barbecue joint, a couple of grill spots, and a place to enjoy freshly made pizza. For dessert, choices include a sweet shop, ice cream stations, and a lounge.
Galveston Island Historic Pleasure Pier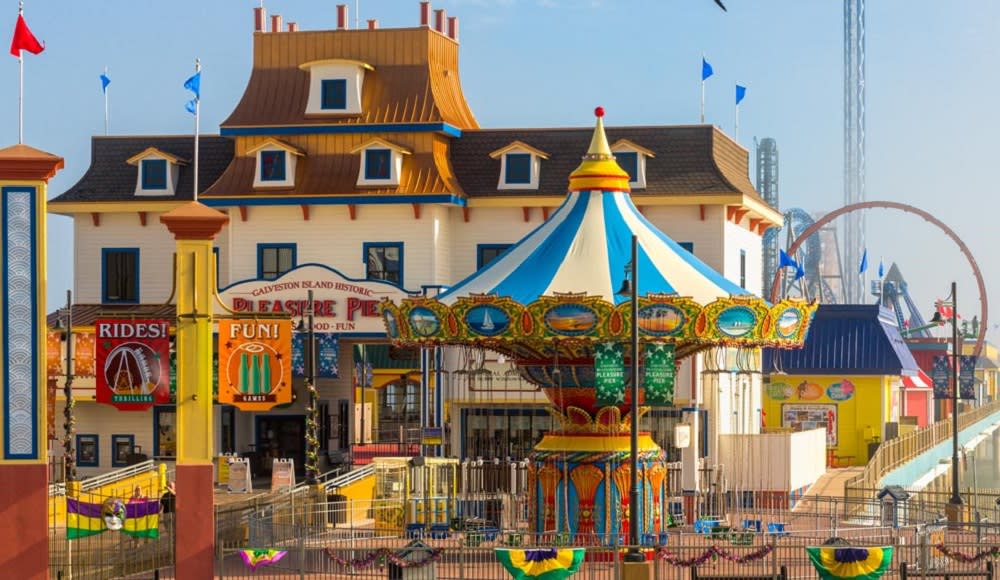 Lovers of amusement rides and games will revel in Pleasure Pier.
Few locations
on the planet have as many rides as this extraordinary amusement park, and thrill-seeking guests often find themselves soaring high above the crystal blue waters of the Gulf of Mexico in one of Pleasure Pier's exciting attractions.
Younger ones can enjoy the delightful teacup ride, bumper cars, a mini Ferris wheel, and a two-level carousel. For those feeling a bit more daring, the
classic swing carousel
elevates and rotates over twenty feet into the air, or take it even further by catching a ride on the swings, which suspends your over two hundred feet above sea level. There is an exciting flume ride and a couple of exhilarating looping roller coasters to experience for those craving more intensity.
Another gripping and distinctive attraction is the Pier 5D Theater Ride. Currently, the heart-pumping rides include the Shark Attack — featuring a blood-thirsty prehistoric megalodon shark — and
The Mysterious Underworld
, where riders face a perilous journey through a dark mine. Beyond the projected visuals and immersive sound, the theater achieves the "5D" element with a dynamic-motion room featuring moving floors and fog, smoke, wind, and water.
The location would not feel complete without an abundance of food choices for the entire family. Whether you're hungry for turkey legs,
sausage on a stick
, corn dogs, hamburgers, pizza, all kinds of fries, and more, you will find it here! Dessert includes classic funnel cakes, ice cream, cotton candy, and over-the-top sundaes. Enjoy several sit-down dining restaurants, including numerous steakhouses and seafood eateries. The
first Bubba Gump Shrimp Co. in Texas
is at Pleasure Pier, featuring their prawns and the award-winning slow-roasted ribs.
Along the boardwalk, you'll encounter many
Midway Games
spots where kids and families can win prizes in whac-a-mole, ring toss, and more. Featuring sweeping views of the water in all directions, enjoy a unique and memorable theme park experience at Pleasure Pier.
If you're interested in learning more about the best entertainment spots in the area or are considering investing in a Galveston luxury home, please don't hesitate to reach out to
Amy Chance
for expert guidance.